Introduction
Pakistani entrepreneur Sunny Ali is a renowned e-commerce expert and the CEO of Extreme Commerce, which offers e-commerce education and training to people all over the world. Throughout this article, we will discuss Extreme Commerce's Founder and CEO, Sunny Ali's biography and journey from struggling e-commerce entrepreneur to CEO of Extreme Commerce.
Biography
| | |
| --- | --- |
| Full Name:  | Sunny Ali |
| Date of Birth: | September 06, 1977 |
| Place of Birth:  | Karachi |
| Nationality: | Pakistani, Malaysian, |
| Religion:  | Islam |
| Education: | Microsoft Certified Systems Engineer, Bahria College |
| Occupation: | Philanthropist, entrepreneur, investor, and businessman |
| Active: | 1996–present |
Sunny Alii Biography
Sunny Ali Net worth
A net worth of USD 15 million is expected for Sunny Ali in 2022. Investing in real estate and operating successful e-commerce companies enabled him to amass such a fortune. Entrepreneur Sunny Ali established a strong reputation as a successful entrepreneur by building highly profitable companies such as Extreme Commerce and Qadri Marketing. The Sunny Ali Foundation helps poor communities in Pakistan improve their quality of life through Sunny Ali's humanitarian work. He has generated value across multiple industries thanks to his commercial skills and dedication.
Sunny Ali Social Links
Sunny Ali, the CEO, and Founder of Extreme Commerce has the following social media links.
 Linkedin
Personal website
Ec.com.pk
Facebook Group
 Instagram
Twitter
A Business Start-Up's Struggle
After graduating from college, Sunny launched his first e-commerce venture, which failed terribly. Many obstacles stood in his way, including a lack of resources, a lack of industry knowledge, and intense competition. It didn't discourage him, however, and he continued working hard to accomplish what he had set out to accomplish.
Extreme commerce's birth
Sunny Ali established the Extreme Commerce platform in 2015 to provide e-commerce education and training across Pakistan and the globe. For entrepreneurs and businesses to succeed in the e-commerce market, this platform equips them with the skills and knowledge they need.
Role of Sunny Ali VBC in Extreme Commerce
Video Boot Camp (VBC), a platform developed by Sunny Ali to provide free, comprehensive e-commerce training to businesses and students, has played a significant role in the development of Extreme Commerce. The Sunny Ali VBC offers over 100 training courses covering various aspects of e-commerce, making it possible for individuals to deliver services to clients worldwide on sites like Fiverr or Upwork and earn at least $1000.VBC provides a practical and realistic route to success for anyone who are interested in starting or growing an e-commerce firm.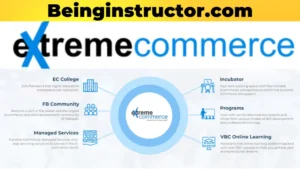 Extreme Commerce Courses:
The following courses are available free of charge at VBC.
Amazon FBA Private Label
Art of Entrepreneurship
Virtual Assistant (VA) / FFL
eBay
Amazon FBA Wholesale
Shopify
Daraz
Amazon Kindle
WordPress
Digital Marketing
Amazon PPC
Affiliate Marketing
Influencer Marketing
Students of Extreme Commerce have been able to earn $500 to $3000 by providing services or running their e-commerce businesses with free training.
Sunny Ali's Contributions and Achievements
A popular e-commerce platform managed by Sunny Ali, Extreme Commerce has over 200,000 students enrolled in its courses. Malaysia, Saudi Arabia, and the United Arab Emirates are among the countries that have adopted the portal.
The e-commerce business in Pakistan has greatly benefited by Sunny Ali. Through his work, he has contributed to the growth of e-commerce and assisted many entrepreneurs and businesses to succeed in the field.
E-Commerce Education at Extreme Commerce
This platform covers all aspects of e-commerce, including product research, sourcing, marketing, and fulfillment. Students can apply what they learn in real-world scenarios during the courses because they are hands-on and practical.
Additionally, the platform provides its students with mentorship, coaching, and networking opportunities. This approach plays a part for many students' success in the e-commerce sector.
Sunny Ali's Future Plans
As he puts it, Extreme Commerce is going to be a magnificent project. Through the platform, he wants to teach and train millions of individuals about e-commerce in other countries. Additionally, a new course or programme is being developed to meet the expanding demands of the e-commerce industry.
Conclusion
Sunny Ali has built a successful e-commerce business since failing as an online business owner. Learning about his goals for Pakistani e-commerce education and his contributions to the nation's e-commerce business is inspiring. He will continue to lead Extreme Commerce in its e-commerce endeavors, which have assisted many entrepreneurs and businesses.
FAQs
What is Extreme Commerce?
Business and entrepreneur education and training are offered by Extreme Commerce, an e-commerce platform.
Who is Sunny Ali?
E-commerce company Extreme Commerce was founded by Sunny Ali.
How many students are enrolled in Extreme Commerce's courses?
There are over 200,000 students enrolled in Extreme Commerce's courses.
What is Extreme Commerce's approach to e-commerce education?
E-commerce education at Extreme Commerce is practical and hands-on, allowing students to apply what they learn immediately.
You can learn more about E-commerce by clicking here.